September 2018
Halifax paedophile banned from bus stops and shops nationwide after tricking school children
A convicted sex offender from Halifa

x who repeatedly ignored a court order aimed at stopping him from having contact with children has been jailed.
Elderly pervert Kevin Shutt has now been banned from going to bus stops and shops anywhere in the country when kids are going to and from school.
The white-haired pensioner tricked well-meaning youngsters by deliberately dropping his wallet on the ground and then offering to "treat" them for their good deed when they handed it back.
But the 69-year-old, who was jailed in 2010 for performing sex acts in front of kids using a webcam, then persuaded his victims to put their hand in his pockets to take out £1 coins as their reward.
Shutt, of Park Fields, Mount Tabor, Halifax, targeted two boys and two girls, aged between 10 and 12, during a series of offences.
Bradford Crown Court heard how Shutt targeted one boy while he waited for a bus to school in Hebden Bridge.
Shutt used the same ruse of dropping his wallet when two girls were walking near a supermarket in Mytholmroyd and three days later he did it again when he saw a boy walking home from school in Hebden Bridge.
After being charged with those offences earlier this year Shutt was given police bail, but he was then seen near to another schoolgirl at a store in Halifax.
Married man Shutt pleaded guilty to a total of five breaches of the indefinite Sexual Offences Prevention Order which was imposed back in 2010 as part of his previous prison sentence for engaging in sexual activity in the presence of a child.
Judge David Hatton QC jailed Shutt and imposed a new Sexual Harm Prevention Order which includes a nationwide ban on the defendant going to bus stops or retail outlets at times when children are going to or from school.
The restriction means he cannot attend at any bus stop or retail outlet on a weekday between 8am and 9am and 3.30pm and 4.30pm. "These were quite deliberate and flagrant breaches of the order which you persistently committed clearly having no respect whatsoever for the court order," the judge told Shutt.
The judge explained that he would have jailed Shutt for three years following a trial, but his guilty pleas to the charges meant his jail term had to be reduced by about 20 per cent to 28 months.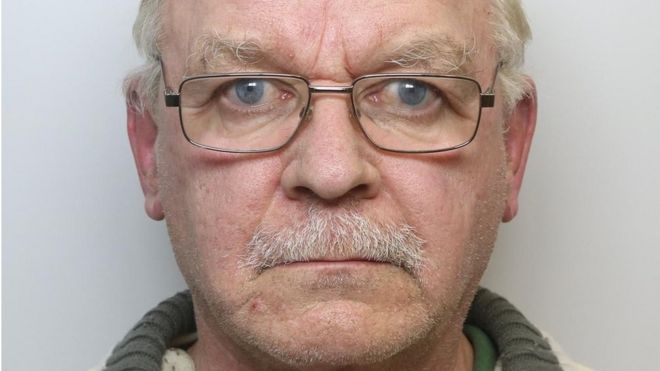 January 2010
'Predatory' internet paedophile is sent to jail
A 60-year-old man who hijacked internet accounts to contact youngsters via computer messaging sites has been branded a "predatory paedophile" by a judge.
Kevin Shutt pretended to be the step-dad of a friend when he made contact with an 11-year-old girl in London, but during a webcam link he exposed himself to the youngster and her sister.
Prosecutor Stephen Grattage said the two girls were left tearful and upset by the incident.
Bradford Crown Court heard that Shutt, of Park Fields, Halifax, performed a sex act during a similar link with a teenage boy.
A police inquiry was launched following the incident in November 2007 and officers tracked down the computer used to contact the youngsters.
The equipment belonged to a Halifax company where Shutt was employed and he was arrested.
Analysis of work and home computers revealed that Shutt had accessed a large number of accounts and officers also found thumbnail images of young girls which could be used as user profiles on contact addresses.
Shutt pleaded guilty last year to three offences of engaging in sexual activity in the presence of a child and yesterday he was jailed for 15 months.
Judge Durham Hall said the public, the parents of the children and the children themselves would be outraged if he did not impose an immediate custodial sentence.
Shutt was disqualified for working with children and was also made the subject of a sexual offences prevention order which restricts his access to areas such as swimming pools or leisure centres.
He will also have to register as a sex offender with the police.