October 2018
Convicted Flintshire child rapist jailed for breaching sex offender register requirements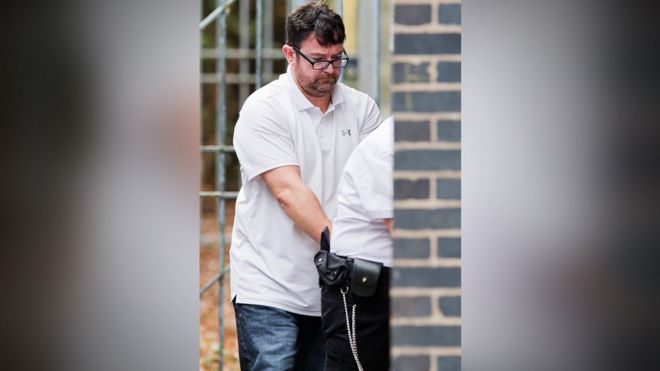 A CONVICTED child rapist who wanted to start a new life changed his name and got himself a new passport.
Christopher Griffiths, previously known as Christopher Davies, got a new partner and they went on holiday abroad together.
But he has been jailed for eight months at Mold Crown Court after he admitted seven counts of breaching sex offender register requirements.
Judge Rhys Rowlands said he accepted it had not been done with a view to committing any new offences.
It was done because of his desire to start a new life but it was serious because he was on the sex offender register for life for a serious offence.
Griffiths, 43, of Vaughan Way in Connah's Quay, was jailed for nine years at Caernarfon Crown Court back in January 2007 for the rape of a child and making a false statement to obtain a passport.
He had been released in August 2011 when his obligations as a sex offender were explained to him, barrister Richard Edwards, prosecuting, said.
Police discovered he had travelled to Egypt without notifying the police.
An investigation showed that between June of last year and July of this year he had changed his name, obtained a passport in the new name, had also travelled to Dubai and Mauritius, failed to register a new address and had obtained a bank card and a credit card without registering them with the police.
He was arrested in August and admitted what he had done.
Alex Leach, defending, said the probation service had assessed Griffiths as a low risk of re-offending.
He had been candid and after a sustained period of complying with the register he formed a few relationship with a woman who was in court supporting him.
She was an educated woman who did not know about his background at first but she continued to stand by him.
Mr Leach said that none of the aggravating features normally associated with such offending applied in his client's case.
"His conduct arose out of his desire to form a new life rather than a desire to commit fresh offences," he said.
Sadly, the probation service said it could not work with him and custody would be a crushing blow for himself, his mother and his partner.
Judge Rowlands told Griffiths he was well aware he was subject to the notification requirements for life.
It was onerous for a purpose – to protect children.
He had repeatedly failed to notify the authorities of changes in his life.
Griffiths had reported some, but had been selective.
"I accept your motivation was the desire to move on and create a new life for yourself," Judge Rowlands told him.
There were seven failures and those relating to travel abroad and travel documents were always viewed particularly seriously, the judge said
January 2007
Ex-Pc jailed for raping girl, 14

A former police constable has been jailed for nine years for raping a 14-year-old girl.
A jury at Caernarfon Crown Court heard how Christopher Davies got the girl drunk before raping her at his home near Mold, Flintshire last April.
The judge said Davies, who had become a bodyguard, had not shown remorse.
In 2002, Davies, now 32, had resigned from North Wales Police after being cleared of sending indecent text messages to another teenager.
After being found guilty after a four-day trial, Judge John Rogers QC said Davies – a bodyguard and combat instructor from Northop Hall – had tried to pull the wool of over the eyes of the jury.
The court heard how he took his victim home after taking her for a meal.
"You plied her with so much drink that she fell into sleep or semi-consciousness. Then you gratified your sexual appetite by having sexual intercourse with her," the judge said.
"Only a substantial period of imprisonment is appropriate," said the judge, who also imposed a lifetime sex offenders' order.
After the trial, the girl's mother said her daughter was still living a nightmare but was receiving counselling.
Davies had resigned from North Wales Police in 2002, after being cleared by Wrexham magistrates of sending indecent text messages to a 15-year-old girl whom he had met while investigating an alleged assault on her.
He resigned from the police so escaping a disciplinary inquiry.
In court in 2002, he had accepted he had acted naively but had denied that any of the text messages were of an improper nature.
In his rape trial, the court heard he knew his victim was 14, although he said she had claimed to be two years older.